Batik fabric washing is different than others. When you wash another kind of fabric, you may use a common substantial. It can be detergent or another laundry detergent. In addition to that, you can also use washing or drying machine. But, when you wash Batik fabric, you have to be more careful. There are many rules in order to keep it well.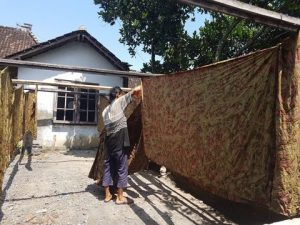 First, you have to use special substantial or detergent. You can use Lerak. Lerak is a traditional detergent without chemical substance. It is good for Batik. Now, it sells in Batik substantial special store. It already set so it is easier to use.
Why it can't be washed by detergent? It is because the detergent is sweltering. It can break the pattern. Even in a long time, it will break the material. Then, it is better to wash manually. The washing machine is also able to break the material and the pattern. In the drying process, Batik is better to dry in a room. It means that it doesn't expose by the sun directly. Because the sun will make it easily faded.
Batik fabric washing at Batikdlidir
Batik fabric washing at Batikdlidir. All of those treatments have done by us (Batik Dlidir) in making Batik. Since we really know that the process is very difficult, so we will give special treatment to keep it well. If you want to add your Batik collection, you can order at our store.
We provide any kinds of Batik. Contact +6282265652222. Please use WhatsApp to get a fast response from us.
for more information or order, you can whatsapp to:
+62 822 6565 2222 Mr Mudzakir.
The service and information 24 hours nonstop. This we do as our dedication in this job.
Over time, Batik has a very broad meaning. Today batik in everyday life is a work of art that manifests culture. Not stop there, but also can give benefits to the general public ( the meaning of "dlidir" ). Batik can be interpreted high-level art of a solo civilization and its surroundings.
For us, batik does not just draw on fabric. Then put on "malam", give motif, sell it or UNESCO recognition. But this is a comprehensive series of all thoughts, manpower and long history synergized in producing the best and original works to be enjoyed together. Good for the solo community in particular and also the people of the World in general.