Blue batik fabric at Batikdlidir. Check out our blue batik fabric selection for the very best in unique or custom, handmade pieces from our batik fabric manufacturers.For the stamp technique, it still seems traditional and unique. Because in addition to using the wax, coloring can be more varied. The price fairly affordable to be made batik uniform.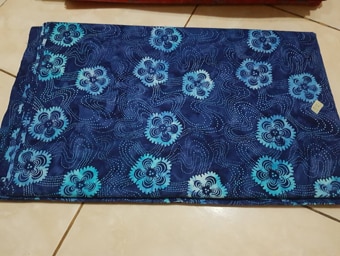 1. Fabric batik prima with custom motif US $ 1.99 / yard.
2. Each meter of cotton primisima ourtagprice is US $ 2.50 / yard.
For color, cap technique has its own value. You will get a solid color. In addition, it can also make your own the color gradation (colour ways/design). Foreign people call it with tie dye smoke technique.
For details can whatsapp to +62 822 6565 2222 Mr. Mudzakir. 24 hours nonstop serving order batik uniform. As our dedication in the field of batik. Situs kami yang lain Pemborong rumah sragen.
Blue batik fabric with stamp method
Blue batik fabric with stamp method at Batikdlidir solo Indonesia. Batik fabric gradient looks from the choice of the color. It usually has more than one color. But the colors that presented are similar. Color is being the characteristic of this Batik. Moreover, if it is combined with an awesome pattern. It clearly gives an amazing look.
The pattern that usually presented on this Batik is butterfly, fish, plant, flower, leaf, branch, and others. This Batik is more emphasizes on the color and the pattern, not the philosophy. It is different to traditional Batik. Because the beauty of the colors and the patterns are able to attract every single eye. This is the attractiveness of Batik gradient.
If you want to have it, you can buy at Batik Dlidir. We have many collections of Batik. If you want to see our collections, you can come to our office or at our website.
We have the cheapest price of Batik ever yet the quality of our Batik is the best. You will get many advantages if you shop at our store like the cheapest price, the best quality of Batik, a good packaging, no delay order, and the down payment is flexible.
For more information and order batik fabric for quilting contact +62 822 6565 2222.