How to stop batik fabric from bleeding By Batikdlidir. If you prefer, you may use a color fixative to keep your batik cloth from bleeding.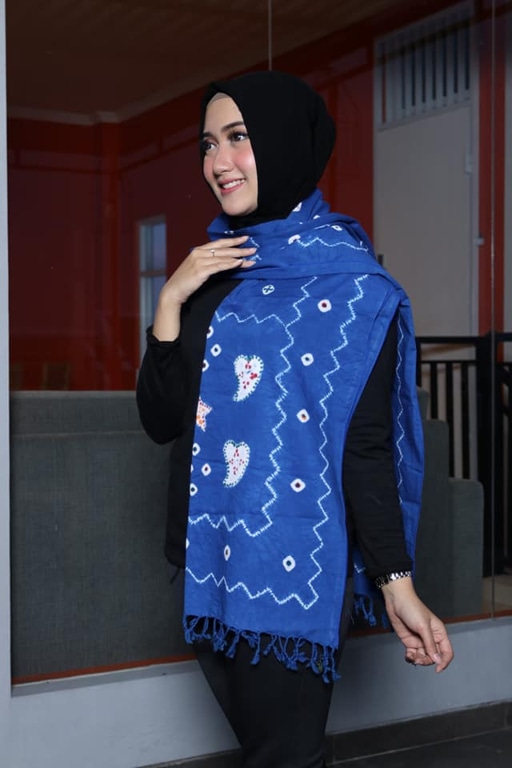 This will aid in permanently fixing any remaining dye in the material, preventing it from bleeding when washed again.
To use a color fixative:
Soak your fabric in a solution of one part color fixative to 16 parts water for 30 minutes.
After soaking, wash your fabric in lukewarm water with a mild detergent.
Avoid using hot water, as this can cause the colors to run. Situs kami lainnya Jasa Bangun Rumah di Solo.
If you're a fan of batik fabric like I am, then you know that the vibrant and colorful designs are what make it so special. But what happens when that beautiful fabric starts to bleed?.
To stop batik fabric from bleeding, you can pre-wash it, soak it in vinegar, or use a color fixative. Avoid using hot water, as this can cause the colors to run. In this blog post, we will discuss tips on how to stop batik fabric from bleeding and keep your projects looking great!.
Tips How to stop batik fabric from bleeding
Tips How to stop batik fabric from bleeding. Remember a few things when washing batik for the first time:
1. If you're using a pre-treated batik fabric, make sure to wash it before you use it. This will remove any excess dye that could bleed.
2. Batik is made with wax, so it's important not to use hot water or put it in the dryer, as this can cause the wax to melt. Instead, use cool water and air dry your garments.
3. When working with the fabric, keep it away from anything that could cause it to bleed, like other fabrics or hot water.
4. If dye is bleeding onto your fabric, don't worry – it's not that difficult to remove. Soaking the affected area in cold water for a few minutes should do the trick!.
5. Because batik is hand-painted, it's important to be gentle when washing it – don't scrub too hard, or you might damage the design. A mild detergent should do the trick.
6. Finally, wash batik separately from other clothing items, as the wax can transfer to other fabrics. Follow these simple tips, and it will look beautiful for years to come!.
How to Wash Batik for the First Time to Prevent Bleeding
How to stop batik fabric from bleeding. First Time Washing to Soften Batik
If your batik fabric is stiff, it is probably because the wax has not been completely removed from the material.
To remove the wax and soften the fabric:
1. You can boil it in water for about 30 minutes. You can also add a cup of vinegar to the water to help remove any remaining wax.
2. After boiling the fabric, wash it in lukewarm water with a mild detergent.
3. If it is still stiff, you repeat the process several times. Avoid using hot water, as this can cause the colors to run.
Also, avoid using fabric softener since it may contain chemicals and leave residue on the fabric.
Benefit Batik fabric for quilting at Batikdlidir
The benefits you get from making batik fabric for quilting in our place, among others:.
1. The price of cotton fabric is cheaper. Why it can ?, Because we are at the center location of the cotton factory and Batik solo.
2. Motives or pattern are more maintained quality. Already tested with years of usage from our customers. Tested from cotton and also durable. In addition, you can make the motif according to your own desired.
3. Unique, because you can combine your own motives. Solo citizens has become a daily struggle in the field of batik industries. So the business of combining has become our daily life.
4. Easy in payment of batik fabric. You can get free of our sample pattern or colour ways. After For reservations we demand DP (Down Payment) 50% of total production cost. So as to create a relationship of trust between the both sides.
5. We provide the whole production process. Presentation can be through pictures or video. It's as if you were looking directly at your order live.
For info or reservations can whatsapp to +62822 6565 2222 Mr Mudzakir.
Batik sarong wholesale special according your order
Batik sarong wholesale special according your order WITH HANDPRINT TECHNIQUE. This technique usually for batik sarong wholesale. We use fabric from original cotton. In Indonesia, there are two famous cotton. Namely, prima cotton and primissima. Here's a little science about this cotton.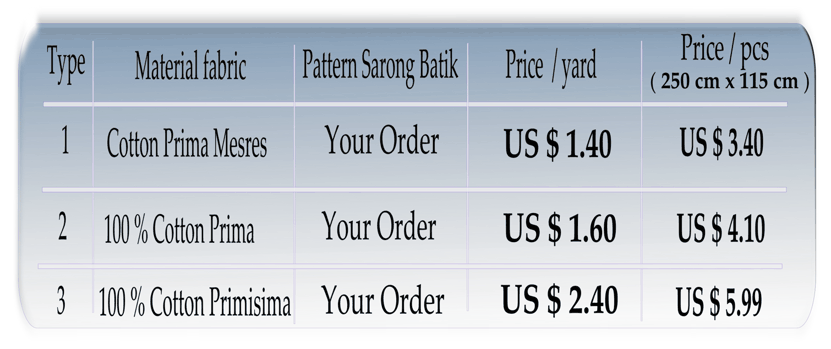 The fabric construction is the part that composes or arranges the yarn. The construction is vertical and horizontal. For the usual primissima use 133 x 72 construction, while prima uses 90 x 70 construction in each fabric. You can choose according to taste and quality of usage.
We make a second offer of the fabric with two prices as well. In addition to the choice of fabric, batik motif you can choose. Here's the price we offer.
1. Fabric batik prima with custom motif US $ 1.60 / yard.
2. Primissima batik fabrics and design patterns of your wishes. We charge US $ 2.40 / yard.
So the two batik fabric above. We send it to your location in a state of fabric that already handprinted as ordered.
For reservations or information can text or whatsapp to:
+62 822 6565 2222 Mr Mudzakir.
We recommend using whatsapp. This is make it easier to communication. Either, forsending picture or video of motives batik. Besides, the processing the work of your order.