Batik Fabric on sale. we sell quality modern batik cloth number 1 in Asia. 100% original cotton material guaranteed, for prices to adjust your budget. We provide the best cotton fabric.
We sell Batik in three categories. This category based on Batik techniques making. Here the explanation:
1. Written Batik (batik tulis). It made by using canting or written (tulis) technique. It usually use for special affair.
2. Copper plate stamp Batik (batik cap). It made by using copper stamp (cap). This technique has solid color, or it is well-known as tie dye technique.
3. Handprint Batik. This is a technique that use screen media to make pattern in the fabric. The examples of this technique is in making clothing and sarong (sarung).
Batik fabric from indonesian culture to worldwide. With prices starting at US $ 1.40 per yard, you can get original Handmade. We ( Batik Dlidir ) is a batik company located in solo city, indonesia. A city closely associated with culture. The city that witnessed the birth of a tradition that until now still sustainable, Batik.
Special batik cloth prices according to your order
Batik fabric special according your order WITH HANDPRINT TECHNIQUE. This technique usually for batik sarong wholesale. We use fabric from original cotton. In Indonesia, there are two famous cotton. Namely, prima cotton and primissima. Here's a little science about this cotton.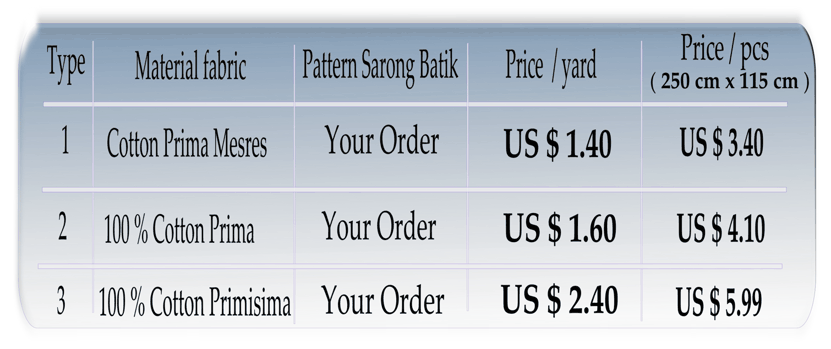 Batik fabric on sale special according your order
The fabric construction is the part that composes or arranges the yarn. The construction is vertical and horizontal. For the usual primissima use 133 x 72 construction, while prima uses 90 x 70 construction in each fabric. You can choose according to taste and quality of usage.
We make a second offer of the fabric with two prices as well. In addition to the choice of fabric, batik motif you can choose. Here's the price we offer.
1. Fabric batik prima with custom motif US $ 1.60 / yard.
2. Primissima batik fabrics and design patterns of your wishes. We charge US $ 2.40 / yard.
So the two batik fabric above. We send it to your location in a state of fabric that already handprinted as ordered.
Technique of making Batik wholesale at Batikdlidir
Batikdlidir serves complete one. Complete means various batik motif suitable with the order or ready stock. For the order, you can make it as you want, like the motif and its size.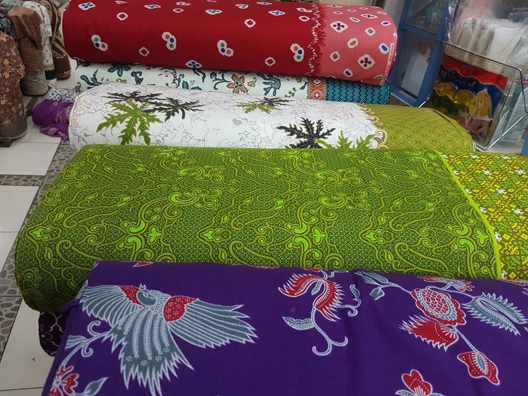 If it is classified into its technique of making, there are three ways. For the first with Tulis (drawn) technique. This technique still uses Canting and Malam as the main media.
For the second by the way of stamping (Cap). Cap(stamp) is usually made from the copper which is made suitable with the pattern or the motif wanted. The next is giving Malamon that stamp (Cap) which is poured on the cotton fabric.
For the third by handprint technique namely making screen. Then, giving the color suitable with wanted. All ways have the benefit itself.
For reservations or information can text or whatsapp to:
+62 822 6565 2222 Mr Mudzakir.
We recommend using whatsapp. This is make it easier to communication. Either, forsending picture or video of motives batik. Besides, the processing the work of your order.