Traditional Batik Tulis Keraton is Batik Tulis that has a peculiar pattern of Keraton (Palace). It made by the Royal family. Each pattern made for them. So, this pattern is very special and holy. Because none can wear it unless the Royal family.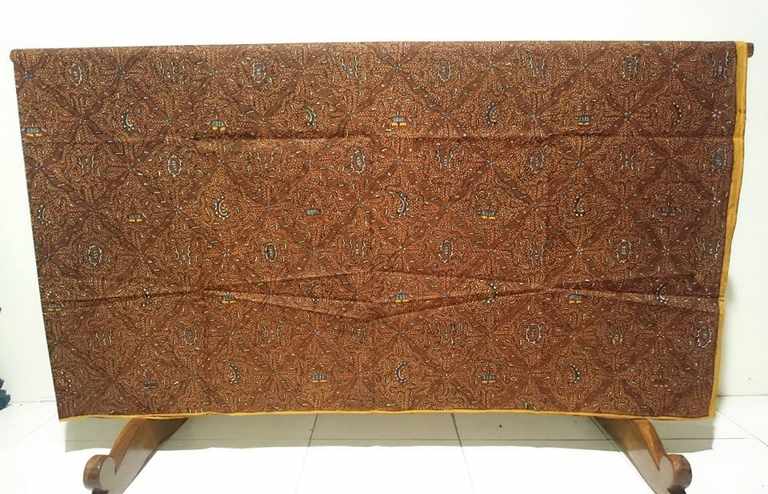 This pattern often found in Yogyakarta. In the past, this town has many kinds of Keraton pattern. But, by the advancing of the era, this pattern has spread out to other regions of Batik, like Solo and Pekalongan. By that time, Keraton pattern is socialized and allow to wear by anyone.
The total number of Keraton pattern is much enough. There are several patterns that still mesmerizes though it is very old. That are grompol pattern, kawung, ceplok, parang, and many more. Each of it has its own philosophy. For the example is grompol pattern. This pattern has a philosophy to gather. To gather the happiness, fortunes, and goodness.
And then the pattern of Kawung. The shape of it is oval. Several people said that it looks like kolang-kaling fruit. This pattern describes that the King is the middlemost of reign and surrounded by his people. It means that those people must obey the King, and the King must protect those people.
Traditional Batik tulis keraton at Batikdlidir
If you want to get that pattern, you can order in our storehouse, Batik Dlidir. Batik Dlidir is several centers of Batik Tulis that located in Solo. You can get many kinds of Batik Tulis. We also provide you Batik Cap (stamp) and Batik Printing.
You don't have to worry about the quality. We have the best maker of Batik, so we will give you the best quality of Batik.
By shopping in our store, you will get many benefits. The first is you will get the best quality. The second is the cheapest price of Batik. And the third is the down payment is only 50% of the total price.
For order requirement, you can call Mr. Mudzakir, as the owner of BatikDlidir at +6282265652222. It is available by phone or WhatsApp, but we prefer WhatsApp than a phone.
Thanks.