Masker kain tali hijab Tegal harga termurah. Kota Tegal adalah salah satu wilayah otonom di provinsi Jawa Tengah. Kota ini pernah menjadi cikal-bakal berdirinya Korps Marinir seperti tercatat dalam Pangkalan IV ALRI Tegal dengan nama Corps Mariniers, pada 15 November 1945. Kota Tegal berbatasan dengan Kabupaten Brebes di sebelah barat, Laut Jawa di sebelah utara, serta Kabupaten Tegal di sebelah selatan dan timur.
Kami membantu anda menyediakan masker dengan harga termurah sesuai dengan keinginan anda. Karena kelangkaan masker medis dan harga yang selangit. Kini masyarakat cenderung lebih suka memakai masker kain. Walaupun keefektifannya tidak bisa dibandingkan dengan masker medis biasa, tapi masker kain bisa dijadikan sebagai alternatif dari kelangkaan masker medis, ketimbang tidak menggunakan masker sama sekali saat harus keluar rumah.
Masker kain juga sudah di saran oleh the Centers for Disease Control and Prevention (CDC) menganjurkan penggunaan masker kain kepada masyarakat luas untuk menekan penyebaran virus Corona, terutama oleh orang yang sudah terinfeksi virus Corona namun tidak mengalami gejala apa pun dan tampak sehat-sehat saja.
Kami menyediakan masker kain tali hijab Tegal dengan harga mulai dari Rp1.800,-/ pcs per 1 ply. Contohnmya sebagai berikut.
Virus corona sudah menjadi pandemi di seluruh dunia, termasuk Indonesia. Dan saat ini di Indonesia pun sudah mulai diberlakukan transisi new normal oleh pemerintah. Transisi tersebut membuat semua kalangan masyarakat harus beradaptasi dengan cepat dan dihimbau untuk tetap mematuhi protokol kesehatan seperti memakai masker kain untuk meminimalisir penyebaran virus.

Harga masker terbaik untuk anak sekolah
Harga Masker Kain Tali di Pasaran
Kami menawarkan harga terbaik untuk masker kain produksi Dlidir, harga mulai dari Rp1.800,-.Kami merupakan Produsen masker kain yang siap membantu Anda dalam pengadaan sesuai pesanan. Selain harga grosir, kualitas jahitan juga nyaman saat dipakai.
Kami membantu Anda untuk mendapatkan masker kain dengan harga manusiawi. Masker kain yang kami produksi mempunya 3 grade, yang pertama masker kain dengan 2 layer dan ada juga dengan 3 layer. Bisa disisipi tisue biasa maupun tisue basah. Kami memproduksi masker kain yang diberi nama masker non-medis tersebut dalam rangka membantu pemerintah mengurangi dampak wabah virus Corona, Masker kain tali hijab Tegal.
Kami membuat penawaran harga Masker kain tali hijab Tegal atau masker kain non medis Pre Order kepada Anda sebagai berikut :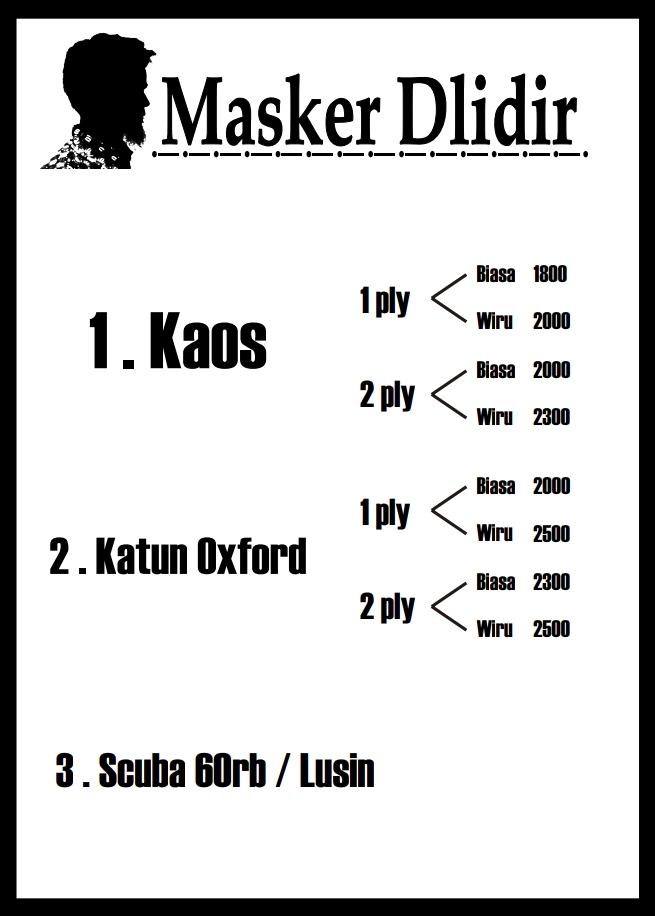 Harga masker kain di atas merupakan masker pre order, dengan minimal order 2000 pcs. Kapasitas produksi masker non medis di pabrik kami mencapai 5000 pcs per hari. Untuk kualitas berbanding lurus dengan harga.
Untuk sekedar informasi atau pemesanan konveksi masker kain, Anda bisa whatsapp kami di:
0822 6565 2222 Pak Mudzakir
Layanan grosir masker kain 24 jam.
Keuntungan Memesan di tempat kami Produsen Makser kain berkualitas
Keuntungan Memesan di tempat kami Konveksi Makser kain yang berkualitas. Masker kain tali hijab Tegal. Keunggulan dan keuntungan yang Anda dapatkan dari pemesanan Pre Order masker Non Medis bahan katun di tempat kami, antara lain :
1. Harga masker kain lebih murah mulai Rp 1.800,- per pcs dengan kualitas terbaik. Karena kami berada di lokasi pusatnya konveksi kain.
2. Sudah teruji Jahitannya yang nyaman dengan pemakaian bertahun – tahun dari pelanggan kami.
3. Mudah dalam pembayaran masker kain non medis. Untuk pemesanan kami mengenakan DP ( Uang muka ) 50% dari total pembiayaan produksi. Sehingga tercipta hubungan saling percaya antara kedua belah fihak.
4. Pelayanan cepat respon dan 24 jam non stop. Kami berdedikasi sebagai produsen masker kain melayani dengan sepenuh hati.
5. Bisa memesan masker kain sesuai keinginan Anda. Baik dari segi bahan, maupun desain maskernya
Hal yang perlu diingat adalah, penutup wajah apa pun akan lebih baik daripada wajah tidak ditutup sama sekali. Terlebih jika Anda sebetulnya sudah terinfeksi virus, namun tidak mengetahuinya.
Masker kain dapat membantu mencegah paparan virus corona dengan tiga syarat, yakni :
1. Makser digunakan saat harus keluar rumah
2. Tetap wajib menjaga jarak minimal 1 meter
3. Sering mencuci tangan dengan sabun dan air yang mengalir
Tidak hanya itu, masker juga harus dicuci setiap hari untuk membersihkan partiekl virus yang menempel di sana. Cara mencuci sama dengan baju, yakni menggunakan air dan sabun. Jadi, tidak perlu menggunakan cairan desinfektan.
Bayangkan betapa repotnya jika anda membuat masker, membeli kain dan menjahitnya sendiri. Tidak hanya banyak uang yang anda keluarkan, tapi juga tenaga dan pikiran. Oleh karena itu, langkah yang bijak ialah Anda memesan masker di konveksi milik kami.
Untuk sekedar informasi maupun pemesanan masker kain bisa whatsapp ke :
0822 6565 2222 Pak Mudzakir.
Produsen masker kain 24 jam nonstop.
Kunjungi website kami lainnya di : Batik fabric for quilting