Indonesia batik tulis jambi with full color. Batik Tulis of Jambi has its own peculiar. One of them is the color. They choose the bright color one, like red, green, yellow, and other bright colors. It aims to show the people how happy or how cheerful they are.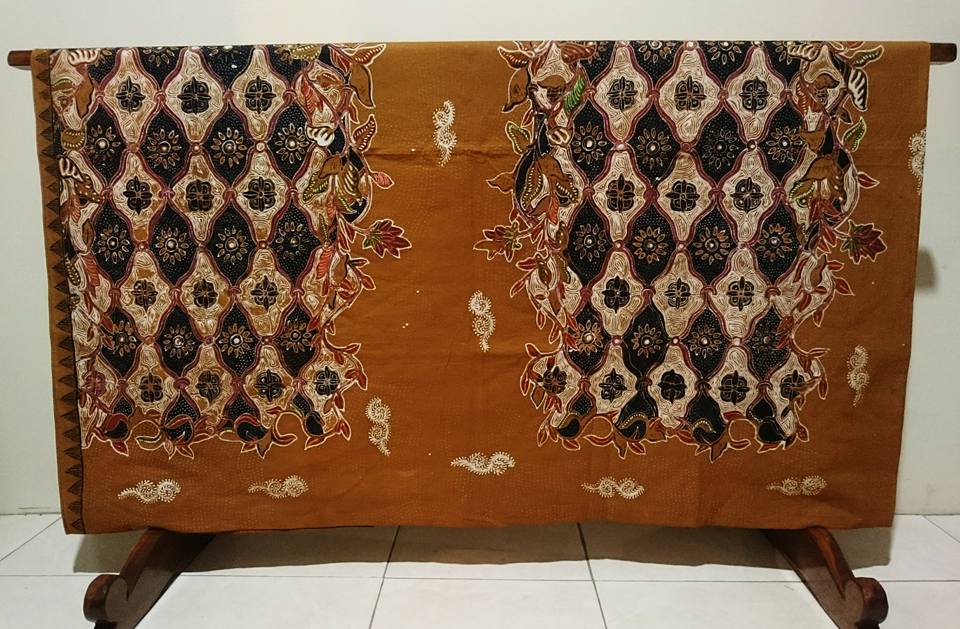 These colors were got from the natural colorant. The makers of Batik in Jambi are preferred to choose the natural colorant than synthetic. They use leaf, latex, and others. Some of the materials that often use to be colorant are the latex of Lambato, Bulian wood, Pandan, the wood of Tinggi, and the wood of Sepang. It usually met in Jambi.
But, some of the makers of Batik in Jambi also get the materials from other cities, like Nila leaf and the seed of Tinggi. Those two materials usually got from Yogyakarta. Those materials used to make the variant of colors. The more color, the more cheerful of Batik.
In Jambi, the developing of Batik fabric is very good. At least, there are 31 patterns of Batik in Jambi. The young people are aware to keep and take care of that Batik. Because they know that it is one of the several cultures that must be kept well. Some of the patterns are Candi Muara Jambi, Kaca pring, Puncung Rebung, Angso Duo Bersayap Mahkota, Bulan Sabit, Pauh (Mango), Antlas (plant), and Awan Berarak.
Besides of that, some other patterns are Kapal Sanggat, Batang Hari, Duren Pecah, Merak Ngeram, Tampok Manggis, and Tabor Titik. Those patterns are the specific pattern from Jambi.
Indonesia batik tulis jambi at Batikdlidir
But, if you are interested in those patterns, you can order that Batik in our storehouse, Batik Dlidir. We are located in Solo because we are one of the several centers of Batik Tulis in Solo.
We have many kinds of Batik Tulis. We also have classic and modern Batik. Besides, we provide many Batik that comes from several regions in Indonesia, like Yogyakarta, Pekalongan, Cirebon, Indramayu, and more.
So, what are you waiting for?!
The contact number of Batik Dlidir (+6282265652222).
Thanks.