Batik is a process of dyeing fabric using a wax resist method. Batiks have been around for a long time. While there is evidence that batiks date back to Egyptian times, the island of Java in Indonesia is best known for it.
Today, batiks are made by many fabric manufacturers and are popular in the quilting world. Quilting with batik fabric , one of them is Batik Dlidir. Batik fabric from indonesian culture to worldwide. With prices starting at US $ 1.40 per yard, you can get original Handmade. We ( Batik Dlidir ) is a batik company located in solo city, indonesia. A city closely associated with culture. The city that witnessed the birth of a tradition that until now still sustainable, Batik.
Batik fabric is a pictorial fabric that is specially made by writing or putting ' malam ' ( wax ) on the fabric. Batik Indonesia, as a whole of technology, related motive and cultural development. This is a craft that has high artistic value. Besides that has been a part of Javanese culture for a long time.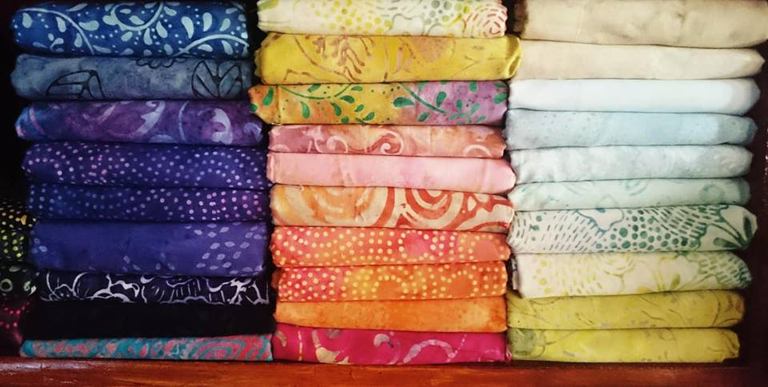 We sell Batik in three categories
This category based on Batik techniques making. Here the explanation:
1. Written Batik (batik tulis). It made by using canting or written (tulis) technique. It usually use for special affair.
2. Copper plate stamp Batik (batik cap). It made by using copper stamp (cap). This technique has solid color, or it is well-known as tie dye technique.
3. Handprint Batik. This is a technique that use screen media to make pattern in the fabric. The examples of this technique is in making clothing and sarong (sarung)
In the batik-making process, the wax that creates the design sinks into the fabric. As a result, both sides of the fabric show a clear image after dyeing, and it is often hard to tell a difference between the right and wrong side of the fabric. When both sides are virtually identical, I choose the side on which the design is clearer with less fuzzy edges as the right side. When the colors vary from side to side, I choose the side that better suits my project as the right side. Occasionally, a batik will show a definite right and wrong side. Batik look-alikes often have a definite right and wrong side.
The benefits you get from making Batik Dlidir quilts
1. The price of cotton cloth is cheaper. Why it can ?, Because we are at the center location of the cotton factory.
2. Motives are more maintained quality. Already tested with years of usage from our customers. Tested from cotton and also durable. In addition, you can make the motif according to your own desired.
3. Unique, because you can combine your own motives. Solo citizens has become a daily struggle in the field of batik industries. So the business of combining has become our daily life.
4. Easy in payment of batik fabric. For reservations we demand DP (Down Payment) 50% of total production cost. So as to create a relationship of trust between the both sides.
5. We provide the whole production process. Presentation can be through pictures or video. It's as if you were looking directly at your order live.
we also provide batik fabric for quilting. For info or reservations can whatsapp to +62822 6565 2222 Mr Mudzakir.