Batik fabric gradation becomes an up-to-date Batik creation. Generally, Batik only uses one or two colors, but by the existing of Batik gradation, Batik colors are more varied. It emphasizes on the shade of the color. It is different to traditional Batik where the pattern is an important ornament.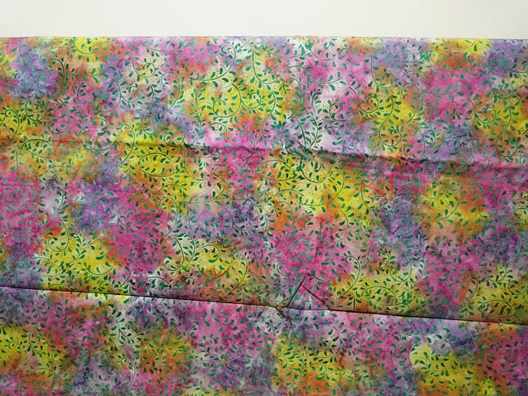 The presence of Batik gradation is the development of Batik fabric. The increasing of Batik lovers make the craftsmen innovate to create a new Batik pattern and model. In addition, to create the pattern, they also make an experiment in the color. It can be seen that the color of Batik are more. Of course, it follows the current development.
This also catches the attention of the youth. In the past, they dislike Batik. Even they won't wear it because it is too old. But now, Batik is the most hunted by anyone. It becomes well-designed fashion.
Batik gradation is quite good-looking. The color shade technique becomes an important part. It needs a professional person in order to make the color gorgeous.
You can also own Batik gradation. You can buy it at our store, Batik Dlidir. We offer many kinds of patterns and color for you. You can choose your favorite. But if don't like with our ready-stock pattern, you can custom your own pattern and we will make it for you.
Batik Dlidir is one of several centers of Batik Tulis in Solo. We have traditional and modern Batik. If you looking for the needs of Batik you can also order here. Batik Dlidir is one-stop Batik shopping.
For more information and order contact +6282265652222. WhatsApp preferably.
Batik fabric gradation at Batikdlidir Indonesia
Batik fabric gradation at Batikdlidir Indonesia. BatikDlidir selling batik from solo city to all over the world. It is easy for us to make low prices, because it is located in batik producers.
With a starting price of US $ 2.50 / yard, you can get quality and handmade batik fabric. Indonesian batik fabric at a cheap price with quality " wong solo ". Solo batik history can not be separated from the influence of the palace. Cap technique covers tie dye, smoke or color gradation.
We use 100 cotton batik fabric quality choice. Maybe you ask, what is the real cotton ?. Before entering the problem of cotton, it would be better to know about cotton base material ie cotton.
Cotton is a fine fiber that envelops the seeds of several species of Gossypium (commonly called "trees" or cotton plants), 'bush' plants originating from the tropics and subtropics. Cotton fiber becomes an important material in the textile industry. The fiber can be spun into yarn and woven into cloth. Textile products of cotton fibers commonly referred to as cotton (yarn or cloth).
Why do we count on 100 percent cotton ?. In accordance with our experience, in addition to absorbing sweat is also not hot. So when you wear it so comfortably.
There are many types of 100 percent cotton in Indonesia. Construction of the yarn that distinguishes between types of one another. In addition, there is also seen from the thickness of the threads of cotton fabric.
You can buy batik fabric via whatsapp to : +62 822 6565 2222 Mr Mudzakir.
Thanks.